2019 Annual Meeting of the Northern Frontier Section
The Annual Meeting of the Northern Frontier Section of the Green Mountain Club will take place

Sunday, May 19, 2019

Public Safety Building
Community Meeting Room
86 Mountain Road (Route 242)
Montgomery Center VT 05471
5:00 - 6:00 Potluck Supper
6:00 Annual Meeting and Elections

Please join us for our annual meeting. We will elect officers and make plans for the upcoming hiking season. Please come with your ideas for promoting membership, hiking and other activities including trail and shelter maintenance. Bring a friend. We look forward to seeing you.
Questions: Ken Whitehead - 802-933-5352 or mrsswhitehead@gmail.com
About the Northern Frontier Section
The Northern Frontier Section of the Green Mountain Club maintains the northernmost section of the Long Trail, from Hazen's Notch (Route 58) north to Journey's End at the Canadian border. The Northern Frontier section is the most remote part of the LT and includes some of it's most challenging terrain.
The members of the Northern Frontier section maintain 18.7 miles of trail and five shelters (from south to north): Hazen's Notch Camp (2,040 ft.), Atlas Valley Shelter (2,220 ft.), Jay Camp (2,205 ft.), Laura Woodward Shelter (2,800 ft.), Shooting Star Shelter (2,260 ft.) and Journey's End Camp (1,550 ft.).
The Northern Frontier Section includes (from south to north) Hazen's Notch (1,780 ft.), Bruce Peak (2,900 ft.),
Buchanan Mountain (2,940 ft.), Domey's Dome (2,880 ft.),
Gilpin Mountain (2,920 ft.), Jay Peak (3,858 ft.), Big Jay
(3,800 ft.), Little Jay (3,600 ft.), Doll Peak (3,409 ft.),
North Jay Peak (3,400 ft.), Carleton Mountain (2,670 ft.)
and the northern terminus of the Long Trail at the
US/Canadian border (2,100 ft.).
Our section includes Jay Peak, Vermont's 8th highest mountain, Big Jay, Vermont's 12th highest mountain, and Laura Woodward Shelter, the highest overnight shelter on the Long Trail north of the Lamoille River.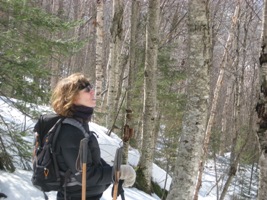 Northern Frontier Section Vice President Jane Williams
The Montreal Section and Randonée Aventure
The Long Trail south of Hazen's Notch over Haystack, Tillotson and Belvidere mountains was for many years maintained by the former Montreal Section and then by Randonée Aventure of Montreal. Vermont-based GMC members have for over 40 years assisted our Montreal friends with trail maintenance on the LT between Eden Crossing (Rte 118) and Hazen's Notch; and on the two side trails - Frank Post Trail and Forester's Trail. Now that most of the Montreal-based volunteers have retired from active trail maintenance, Northern Frontier members, other GMC members and GMC field staff continue the work north of the Laraway Section and south of the Northern Frontier Section.
History of the Northern Frontier Section
The Northern Frontier Section of the Green Mountain Club was founded in May 2000 by Don Hill and Rolf Anderson to maintain that part of the Long Trail System previously maintained by the former Jay Section and former Montgomery Section of the GMC. From 1987 to 1999 this section was maintained by an informal group of GMC "at-large" members (unaffiliated with a section) and the Long Trail Patrol. Shelter adopters from Barnet to Johnson to Saint Albans and northward to the Canadian border have all contributed enormously to the quality of hiking the Long Trail. Don Hill first adopted the original Hazen's Notch Camp on the south side of Route 58 in 1967. It was the example set by Don Hill that inspired so many others to contribute their time and energy in their own way.
Join the Club
* Become a member of the Green Mountain Club and help the GMC maintain and protect the Long Trail, America's oldest long distance hiking trail.
* Help the Green Mountain Club in its mission as steward of the Long Trail by becoming a member of the GMC.
* Give something back to the Long Trail by helping the Northern Frontier Section maintain the trails and shelters of the Long Trail system from Hazen's Notch north to Journey's End.
* Join other outdoor enthusiasts on hiking, paddling, snowshoeing and skiing trips.
* Join the GMC Northern Frontier Section today !
Membership Dues are as follows:
Individual $ 45
Family $ 60 (Includes children under 18)
Student/Senior/Limited Income $ 25
Please make check payable to Green Mountain Club and mail to Waterbury Center headquarters address below.
Thank you !
Green Mountain Club
4711 Waterbury-Stowe Road
Waterbury Center VT 05677
802.244.7037
www.greenmountainclub.org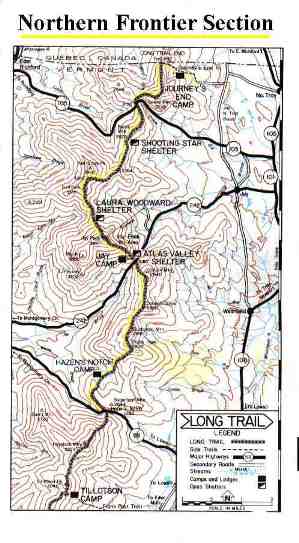 Membership
Since the Spring of 2000 we've cleared our section of the trail of winter blow downs (as snow pack permitted!!) in early to mid-May. Section members lead a variety of outings to include hikes, bike rides, canoe trips, bird walks, picnics, as well as ski and snowshoe tours in winter. The section annual meeting is usually held in late Spring/early Summer in Montgomery Center.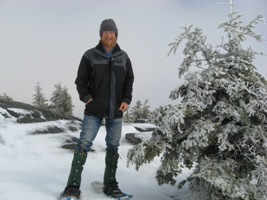 Northern Frontier Section President
Ken Whitehead
GMC Northern Frontier Officers:
President: Ken Whithead
T: 802.933.5352
E: mrsswhitehead[at]gmail[dot]com


Vice President: Jane B. Williams
T: 802.827.3879
E: janiewilliams[at]surfglobal[dot]net


Treasurer: Walter Pomroy
T: 802.635.1770
E: walter[at]pomroycpa[dot]com


Secretary: Kip Potter
T: 802.868.3125
E: pottersvt[at]comqst[dot]net


Director: Russ Ford
T: 000.000.0000
E: russell.f.ford[at]gmail[dot]com


Trails & Shelters: Ferdinand Lauffer
T: 802.933.4252
E: flauffer[at]gmail[dot]com


Newsletter: Kip Potter
T: 802.868.3125
E: pottersvt[at]comqst[dot]net



Website: Rolf Anderson
T: 802.326.4799
E: rolfanderson[at]hazensnotch[dot]org